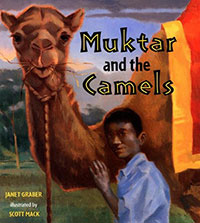 Muktar and the Camels
written by Janet Graber
illustrated by Scott Mack
Henry Holt & Co.
ISBN: 978-0805078343
ages 4 to 8
Find this book at your
local library or
your favorite used bookseller.
Muktar lives in an orphanage on the border of Kenya and Somalia. He daydreams about his old life with his family and especially tending to camels. One day, visitors arrive bearing books, and Muktar's friend Ismail is excited; so is Muktar, but for a different reason―the visitors are riding on camels. Muktar quickly discovers that one of the animals is injured and realizes this is his chance to prove himself. If there is anythingMuktar knows, it is camels. Through the eyes of an endearing protagonist whose love and respect for animals shines, this beautifully told story introduces young readers to another part of the world and way of life.
Graber's story offers an anthropologist's appreciation for Somali nomadic culture without westernizing Muktar. He is not a bookworm or entrepreneur—he is a displaced child who is made drowsy by the "tangy smell of fresh excrement." Muktar longs to live the life that is in his blood, and Graber tells his story well … Mack's oil-on-canvas paintings evoke the sun and dust of Kenya, giving readers an impression of the landscape. (School Library Journal)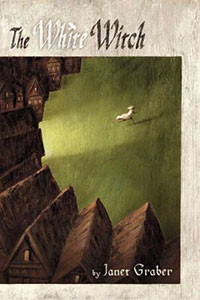 The White Witch
written by Janet Graber
Roaring Brook Press
ISBN: 978-159643337X
ages 10 to 14
Find this book at your
local library or
your favorite used bookseller.
The Great Plague has come to England, and no one is safe, least of all Gwendoline Riston. With fair skin and hair and a way with plants and animals, the villagers are calling her a witch and blaming her for the disease. A story of survival and self-discovery, this is historical fiction with a bit of suspense and even romance mixed in and is sure to captivate today's reader.
"… the author offers a compelling glimpse into 1665 England." (School Library Journal)
Graber's compelling tale centers around a young girl whose deft healing touch, easy way with animals, and eerily pale complexion naturally lead some of her Puritan neighbors to assume that she's a witch. When the plague erupts, she is hidden by her father in a secret chamber of the local church and instructed to lay low, no matter what happens. As the disease decimates her village, she progresses from self-preservation to self-sacrifice to, eventually, self-realization. (Booklist)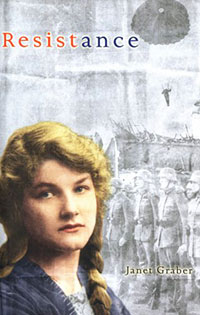 Resistance
written by Janet Graber
Marshall Cavendish
ISBN: 978-0761452140
ages 12 and up
Find this book at your
local library or
your favorite used bookseller.
In German-occupied Normandy, France, fifteen-year-old Marianne worries that her mother is exposing the family, especially Marianne's deaf younger brother, to great danger by volunteering for more perilous assignments in the resistance movement.
"The taut story line builds tension from the first page. Marianne's confusion and fear are realistically rendered. Yet she is a typical teenager who dreams of being a clothes designer someday, and only wants her family to be safe. This leads her to do something terrible that imperils all of them. Ultimately, she is forced to look beyond the war with its established enemies and allies to see real people and judge them as individuals. With winning characterization and a compelling plot, this quick read will appeal to reluctant readers as well as voracious ones." (School Library Journal)
Graber paints a convincing picture of French village life during the war, when some enemies were obvious but others were difficult to discern, and trusting the wrong person could be fatal. (Booklist)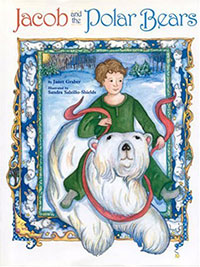 Jacob and the Polar Bears
written by Janet Graber
illustrated by
Sandra Salzillo-Shields
Moon Mountain Publishing
ISBN: 978-1931659000
ages 4 to 7
Find this book at your
local library or
your favorite used bookseller.
Jacob thinks his good-as-new, second-hand pajamas decorated with 172 little white polar bears are special—until all the bears escape.
"Delightfully musical, sweetly mischievous" (Peggy Deitz Shea, author of The Whispering Cloth and New Moon)