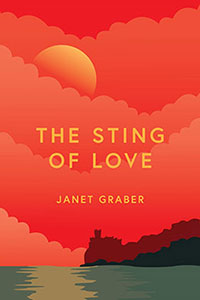 The Sting of Love
written by Janet Graber
Creative, Ink
ISBN: 
Georgina is visiting her widowed father in England to celebrate his seventy-seventh birthday, decades after he fought in WWII.  She is astonished when he asks her to accompany him back to Trieste in Northern Italy.  He has always refused to set foot in Europe again.  What changed?  And why now?
Captain James Drummond survived the battlefields of North Africa and Italy. Instead of his anticipated return home to wife and a four-year-old daughter whom he had yet to meet, he was assigned to the grim task of military occupation in Trieste.
On a summer patrol in 1945 in the disputed hills above Trieste, he encountered a group of Yugoslav partisans, bathing. When he glimpsed a woman emerging from the pool, water cascading from her body, a new conflict emerged with no clear lines, one he must navigate alone. The war-weary captain was faced with heart wrenching choices.
Meanwhile, Georgina confronts her own demons – a stale marriage, a secret affair, and her father's new revelations. Weaving historical facts with fictional characters, The Sting of Love moves seamlessly between Georgina's tumultuous life, and that of her father in the aftermath of WWII, viewed through the lens of their several weeks together in Trieste.
Graber's profoundly moving novel explores grief, family secrets, and the collision of honor versus desire; a conundrum that has persisted from one generation to the next throughout human history.
When I began to write The Sting of Love, partly because my father was stationed in Trieste after the defeat of Germany in 1945, I had no idea how close Trieste came to being the  flashpoint for another war. Only after lots of research did I become fully aware of the strategic and political dangers that threatened the new world order in that region.
Trieste was situated on the boundaries of Italy, Austria, and Yugoslavia. And most importantly was a deep-water port with an outlet into the Adriatic Sea, making it one of the most strategically vital ports in the Mediterranean at that time. Yugoslavia, backed by the USSR, was determined to bring the city and surrounding areas under direct communist control. The Allies were equally determined this would not occur.
On May 1, American and British troops, a New Zealand infantry battalion, and the Yugoslav Army, all raced forward to seize the city.  Yugoslavia won. The result was a forty-day standoff in Trieste. The city was under the control of the Yugoslav Communist partisans of Marshal Josip Broz Tito.  The surrounding area was in the hands of the Allies. 
Having taken Trieste, Tito had to decide what to do with it.  The fact of his success pushed brinkmanship with the Allies to the highest level, pressuring them to believe Tito would fight to hold the port, as well as access to Austria with the backing of the Russians. The result was a geopolitical nightmare, not just for Churchill and Truman, but for Stalin, too. If Stalin decided to risk WWIII, it could not be on terms dictated to him by Tito.  Tito was a maverick and Stalin didn't trust mavericks. Stalin worried too, that Tito might make a pre-emptive land-grab into the Allied Sector. So, the stage was set. Was the future shape of southern Europe to be decided by negotiation or by armed force? Much apparently depended on the duplicitous Tito. 
As I delved deeper into this dangerous stand-off, I was reminded of Sarajevo and the assassination of Archduke Franz Ferdinand which sparked WWI. During the violent stand-off in Trieste, in which opposing armies literally stood nose to nose, staring into each other's eyes, how easily this might have happened again. The forty-day standoff in Trieste was a fragile trade-off. The stage was set for confrontations between Western allies and the Yugoslavs (by proxy).
Prime Minister Winston Churchill was so concerned, he began making contingency plans for a massive military strike against the Soviet Union. It was code-named Operation Unthinkable with Trieste as the flashpoint. At the same time, a demarcation agreement was reached to separate opposing forces in Trieste. In absurdly comic fashion, a meandering seventy mile long line from south of Trieste to the Austro-Italian border, doodled with a colored pencil on a map by an idle soldier, was mistaken by officers to be the finished product! Voila—the opening volley of the Cold War. Twenty thousand Allied and Yugoslav soldiers faced each other across the Morgan Line. (See the map displayed in my novel.)
Shortly thereafter, Churchill lost re-election in Britain, the Allies capitulated control of Poland to Stalin, the United States dropped the atomic bomb, deterring Stalin from any notion of beginning WWIII by grabbing more of Europe—and instead, the Cold War took hold in earnest.