The Secret Chamber of Gwendoline Riston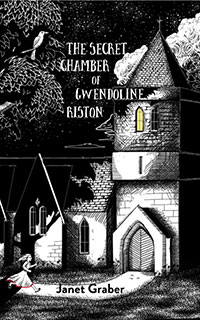 The Secret Chamber of
Gwendoline Riston
written by Janet Graber
Fitzroy Books
ISBN: 978-1-6460-3236-5
ages 7 to 11
BUY THE BOOK
This book is available as a special edition hardcover or paperback. Click on an icon below to purchase the book.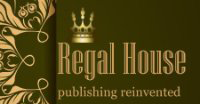 While Malcolm Mouse, Explorer and The Secret Chamber of Gwendoline Riston are broadly available online and in bookstores, I am asking anyone who is financially able to consider ordering directly from my publisher.  It is a wonderful way to show support for a small, independent press.  And additionally, the special edition hardcover versions (truly delightful) are only available directly through Regal House.  Best of all, a handwritten card of thanks is included with every book shipped directly from Regal House Publishing to express gratitude for the support of independent publishing.

The year is 1665. Fourteen-year-old Gwendoline Riston lives in the village of Letchlade on the upper reaches of the River Thames. Her puritan neighbors have long whispered about Gwendoline—her way with animals, her skill with plants, especially her pale skin and white hair. They believe she is a witch. But her father says she looks like an angel here on earth, and her friend Jack is a loyal companion when the village folk shun her.
When a terrible plague hits London, threatening the countryside, no one is safe. The villagers blame Gwendoline. "Purge the pale one!" they cry. If that weren't cause enough to be frightened, Gwendoline's friend goes missing and her father sets out to search for him, leaving her hidden away in a secret chamber above the porch at St. Giles Church to keep her safe. With only a meager supply of food, Gwendoline must summon all her courage to survive through the long, hot summer.
"Willful ignorance, blind faith, persecution, honor and love, swirl through this novel. A vivid sense of time and place, intensified by the elegant cadence of Gwendoline's passionate first-person voice." (Kirkus Reviews, starred review)
"A compelling glimpse into 1665 England." (School Library Journal)
"Vividly imagined historical realism." (ALA Booklist)
"Set in 1665, The Secret Chamber of Gwendoline Riston by Janet Graber, captures the drama of living through a pandemic through the eyes of a young girl whose community is ruptured by the plague. Graber's heroine, Gwendoline, shows how empathy, strong relationships, and grit are foundational to overcoming the most harrowing of challenges." (Victoria Petelin, publishing co-coordinator at Wise Ink Creative Publishing)
"In The Secret Chamber of Gwendoline Riston, author Janet Graber weaves a tale of old that hauntingly echoes our own experience with the Covid-19 pandemic. Young Gwendoline Riston is fearful of the Great Plague and what it will do to her village and her loved ones. To escape the spreading fever Gwendoline hides away in a secret chamber, careful to avoid the villagers ignoring her father's advice to close off the hamlet. She fights to understand the disease and to do what she can to help her neighbors at the risk of her own safety. Gwendoline's bravery, intuition, and primitive knowledge of science, shine through in this gripping story as she struggles to survive amidst deadly disease. This story immerses the reader in the healing ways of old, yet feels oddly like today. " (Susan Latta, author of Bold Women of Medicine and Dr. Kristen Latta, DO Obstetrics and Gynecology)
"Set in a small English village shortly after the plague has overtaken London, this historical adventure is sure to keep readers glued to the page. White-haired Gwendolyn, who has inherited the gift of healing from her deceased mother, is shunned by the villagers and blamed for the plague that eventually comes to their village. Her father shuts her away in a secret chamber of the church to protect her, and from her perch she watches as one after another person dies. Graber is a masterful storyteller and creates a flawless, authentic atmosphere of medieval times. This timely story is surely one that will resonate for today's young readers." (Loretta Ellsworth, author of The Shrouding Woman and Stars Over Clear Lake)